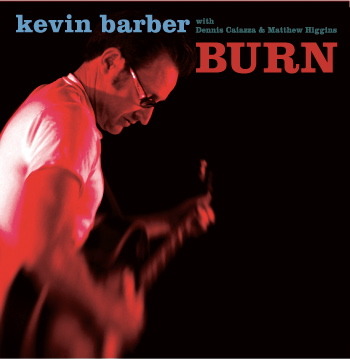 BURN
- 2007

Diamond Horseshoe Records



Kevin Barber

with
Dennis Caiazza & Matthew Higgins



Le Cri du Coyote
N 114
-Fall 2009
- Bernard Boyat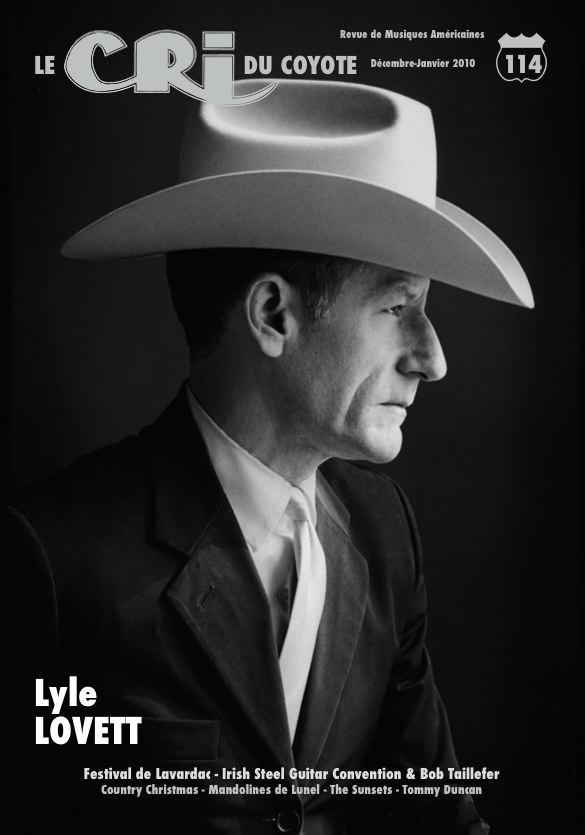 French zine with BURN and Greetings From Memphis review on page 4. 
Click for magazine pdf.


Green Man Review May 4, 2008
-Gary Whitehouse

In a similar but less complex vein is Kevin Barber's music on Burn. Barber plays gentle, jazz- and country-inflected music with lots of dark tones to it. His trio, with Dennis Caiazza on acoustic bass and Matthew Higgins on drums, is a popular act on the Oregon brewpub circuit. This album is a good example of why; it's lovely mostly light music to perfectly accent a night out with friends.

The material ranges from the minor-key George Benson-like title track to Chet Atkins-influenced country shuffles like "Hurtin' Time." Barber's gentle tenor vocals remind me a bit of Stephen Bishop, and the low-key approach to the vocals generally complements the lyrical content. There are a small handful of jazzy instrumentals, including "Stolen Moments," the uptempo workout "Underpants Spaceman Dance" and the final track, the midtempo "That's Nice." "Come Along" has a fast rockabilly rhythm and James Burton-inspired twang, and "Lullabye" has a lovely cello line behind guitar arpeggios and languid vocals. At the end, you'll probably echo the title of the final track, "That's Nice."
www.greenmanreview.com
Bull Frog Music

October 20, 2008
-Jeremiah Sutherland

Kevin Barber, with his partners in crime Dennis Caiazza and Matthew Higgins, crank out contemporary American Roots music. Combining influences from masters such as Johnny Cash and Chet Atkins with the rich sounds of the classic greats Duke Ellington Frank Sinatra to create a unique music genre they call 'Hillbilly Jazz.'

And yeah, there's a definite "fusion" feel to this CD; much like the "Mister Eclectic" (see below). When I saw the title, "Burn", I prepared myself for scorching guitars and hard voices bellowing about booze and broads. Instead, I heard a kind of melancholic hurtin' style of music. The Appalachia and country overtones are there, but there's no burning happening here. Maybe it's more like smoldering.

About half of the songs are quiet and ruminative pretty smooth in their delivery. The other half (including a couple of instrumentals) are more upbeat and a little tongue in cheek. My favourites are the title cut, "Burn" and a pretty good cover of "Stolen Moments".

Barber has a kind of voice that takes a backseat to his virtuoso playing. That's not necessarily a knock, but I would have liked to hear his voice a little more clearly and more upfront in the recording. Obviously, the guy prefers to let his guitar do most of the talking.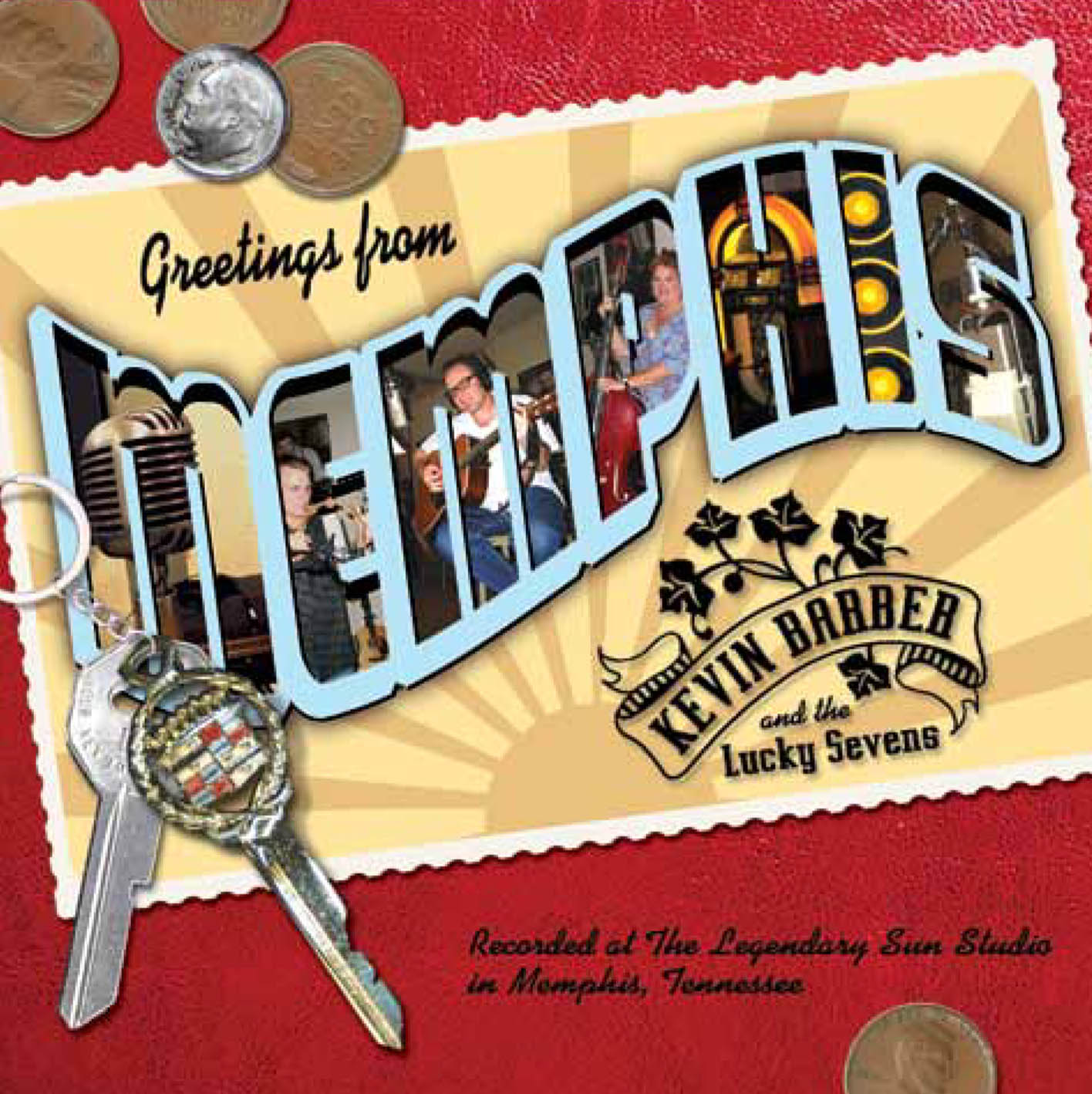 Greetings From Memphis
- 2009
Diamond Horseshoe Records



Kevin Barber


& the Lucky Sevens



Roctober Magazine
5/19/2010
- Waymon Timbsdayle
This barber knows more than one haircut! Unlike many of his pompadoured rockabilly brethren stuck in retro-land, Brooklyn Hillbilly makes refreshingly contemporary, breezy roots music that's worth more than the 2 bits one generally pays for a shave and a haircut.
roctober.com
Blue Suede News
Fall 2009
- Marc Briston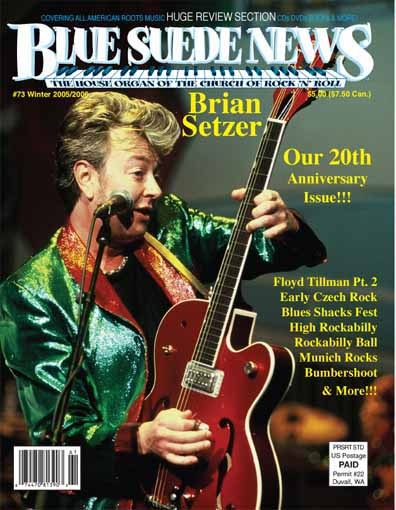 Here's a real nice Rockabilly & Roots music platter infused with jazzy grooves served up with that Memphis twang. As a classic trio with acoustic bass (Lisa Clark), drums (Steve Clark) and Kevin Barber on guitar and vocals it's that early Elvis sound that oozes from the opener "Here We Go".
After this first rate straight Rockabilly (with "Mystery Train" style licks) the remaining five songs are surprisingly full of a jazzy jug band flair. The uptempo "Brooklyn Hillbillies" features lots of finger picking guitar work, and "St. James River" boasts interesting percussion and twangy guitar licks. Atmospheric, finely layered original songs with a great sound, interesting and different, played by excellent musicians and well worth checking out. -GMB
www.BlueSuedeNews.com
Le Cri du Coyote
N 114
- Bernard Boyat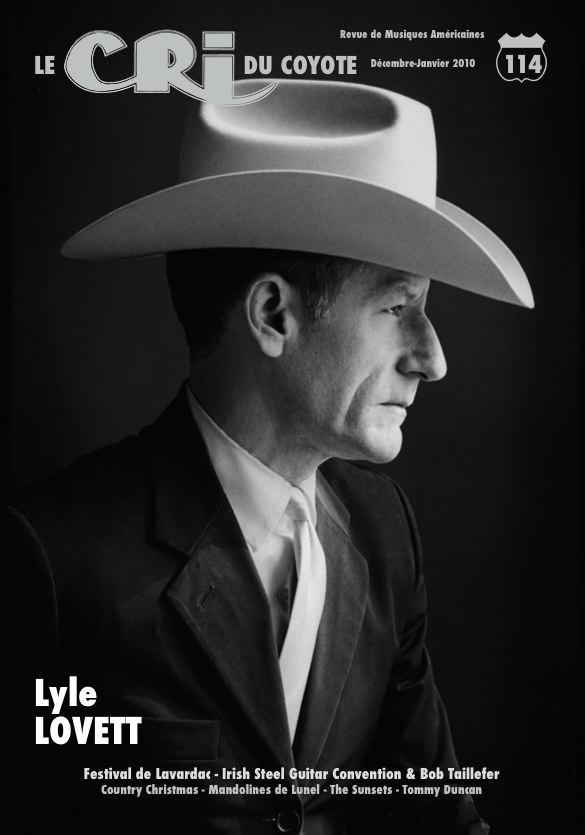 Review for, BURN & Greetings From Memphis on page 4. 
Click for magazine pdf
.











babysue.com

January 2010


We rarely review EPs...and only when they're really, really good. So...you can draw your own conclusions based on the fact that this EP is included in this month's reviews.
Greetings From Memphis
features rockabilly/roots music...which can be a tedious genre in many cases. But not so in the hands of
Kevin Barber
and friends. The songs on this EP contain all the elements that were originally intended when this style of music came into being many decades ago. The rhythms are simple and instantly addictive...the chord progressions smooth and direct...and the vocals genuine and heartfelt. So even though you only get 18 minutes and 58 seconds worth of music here...this is one of those rare cases where it's all good. Tasty treats include "Here We Go," "Morning Biscuits"
(this one features really great lyrics and a killer melody)
, and "Roadrunner." Excellent stuff played from the heart.
babysue.com
Quotes:
"..in rotation...Awesome album. THANKS for the fine music."
-Del Villarreal, Motorbilly Radio on Greetings From Memphis.
"Lullabye is one of the best songs I've heard in the last decade."
-Brook Griffin, Statesman Journal on Lullabye from BURN
.